http://storify.com/newsmary/hhldn-miso-project-and-renew-bins
I'm not sure that I completely agree with Scott Fulton's conclusion in this piece, but it's well worth a read nonetheless. On the difference between Google and journalism:
News has always been a loss leader; it's the thing publishers provide to make the real products they used to sell timely, interesting and competitive. It's literally the sugar coating.

The Internet commandeered the services that newspapers once championed and delivered each of these services on an a la carte basis. In an earlier era, it made sense to bundle these services in a single package – the newspaper – and deliver it fully assembled. Today, the Web itself is the package, and each of the services now competes against other similar services in separate, often healthy, markets. And this is as it should be – this is not somehow wrong.

But it leaves local news providers with only the container, abandoning them with the task of making a living from the news alone. What's worse, it thrusts them into a market with tens of thousands of journalistic ventures of all sizes, all of which have charged themselves with the same objective: building a business model around solely the news. What gives all these services a bit of a reprieve, albeit temporary, are Google News and the other aggregators in its category. Aggregators serve not only as front pages for a multitude of news services, but by bundling them together and giving them the illusion of plurality, aggregators substitute for the missing thunder of the press. The end product is not exactly editorial, but if you squint, there are moments when it reminds you of something that might have been editorial once.
Journalism online has a distribution problem. Unlike a road network, Google isn't a neutral network through which news can be pushed; unlike hauliers and newsagents, social networks don't exist primarily to distribute our news but have their own purposes and uses that sometimes conflict with ours. As the Mail Online prepares to turn its first profit, there is a wider argument playing out about whether journalism can or should be valued by how well and widely it is distributed – for display ad driven models this is particularly acute. And Google, as a display ad provider, potentially profits twice by being the primary distributor as well.
For news, Google is a distributor trying to make the product fit its network. (In other areas too – Schema.org microdata, authorship markup and other elements of Google+ spring to mind.) Though it's certainly useful – I would argue vital to most news sites – it's not the only way to distribute news, and for some sites it's not the dominant method. Google is competing with email, social networks or even direct traffic to be the primary access method. Of course, then, it wants access to news and other content in a form that's easy for it to parse and display. No wonder it fell out with Twitter and Facebook.
To my mind, this is the quote that gets to the heart of it:
Like it or not, aggregation is an interim solution. It's a kludge that satisfies an immediate need in the short-term; it's a substitute newspaper.
Google News is the best of what we've got now. It's not necessarily what's best for news. It's certainly not where we're going to end up.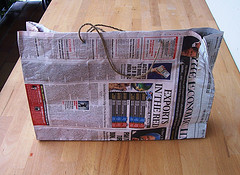 This month's Carnival of Journalism post is late, because I've had my head busy in other places for the last few days – but as per the rules, there shall be no apologies. This month Steve Outing asks what technology or digital trend will up-end journalism next.
I want to pick apart the notion of trends for a minute. Trends aren't about technology. Technology turns up because people create it, sometimes to fulfill needs or because of ideas about the future, but mostly because something that already exists just isn't good enough. Innovations are born out of frustrations. If enough people have a particular frustration, and something comes along that fixes it, it'll be widely adopted. Or if something designed to fix a particular frustration turns out to make life just that little bit better for lots of other people, lots of other people will most likely want to use it. Trends are about people, not things.
We're in the middle of a massive upheaval in how distribution works, and media organisations for the most part are lagging behind in understanding and taking advantage of the changes. Online, the news is centrally hosted, unbundled, available in discrete chunks, accessible from anywhere; news pieces online are not just things to consume, but stations in ongoing journeys, spaces for conversation, and reference points for wider conversation. They're used in many different ways, not all of which involve actually consuming the content on the page.
But most organisations are very much bound into a model where readers must come to us, rather than one where the news gets to people wherever they happen to be. This is one of the dominant trends at present: distribution models changing from top-down to peer-to-peer, both for news stories (in the sense of content created by journalists and hosted on a single URL) and for news itself (in the sense of the raw informational building-blocks of that content). This is true on Twitter, Facebook, Reddit, Delicious, and most other social media that offers link-sharing capability: we're already a long way down this road.
The long, difficult road for news organisations is understanding that they can actually be distribution platforms, as well as reporting the news. It's moving into peer-to-peer news networks, personalised and sociable. Letting people pick what they care about and customise their own experiences on our sites, and making it very easy to get our news wherever they happen to be online. It's ceding control to the users, trusting them to know what they want, and understanding that they do value journalism enough to consume it voraciously, so long as it turns up at the right time and in the right place.