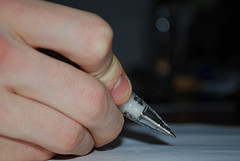 Today, like a fair few other British journalism trainees, I ended up on Hold The Front Page, glued to the examiners' comments on this season's NCE results in the vague and desperate hope that there would be some magical alchemical formula there to help me pass the exams.
There wasn't (that won't stop me doing it again in three months' time) but there were a few interesting points in there that gave me some pause for thought.
Apparently, the pass rate has fallen by 16% but 50% more people are sitting the exams. Because of the way the exams work – they are supposed to come after 18 months of training – that makes me wonder what started to happen 18 months ago that prompted the massive upsurge in trainee numbers.
It also makes me feel sorry for those that aspire to print journalism, because for most, if they aren't already working, they probably won't get work in print any time soon. Most of them will be going it alone, and while that has its advantages it's not easy or cheap.
The examiners' comments, though, are fascinating. According to the senior news report examiner:
Those who did not pass should take note of the skills needed by a reporter in a 21st century newsroom. Publishers quite rightly have a focus on changing technology but core journalistic skills must not be forgotten. It does not matter what platform is being used to tell a story, the basics must still be there.

In today's crowded market where there are so many news outlets, it is important to get the best story, the story that will make your publication stand out and be the first that readers will trust.
Another comment from the newspaper practice examiner:
Anecdotally we hear that reporters are increasingly tied to their desks and unable to get out to cover stories. If this is the case it may be that they are not amassing enough experience to do themselves justice on the practice questions.
I understand that the NCTJ has standards to uphold, but it's difficult to reconcile the newsroom reality with what the examiners are saying.
We're told to write for web first, print second, and time is paramount – it is more important to have the first story on the web, the most SEO-friendly and up-to-date, than it is to have beautifully crafted prose. Some of us are learning to report for the web, not print, and it requires a completely different writing style that doesn't seem to pass muster with the examiners.
Many of us write many stories twice or three times or more, in multiple styles for multiple platforms and papers, and that ties us to desks – spending more time writing leaves less for reporting. And redundancies are forcing us to write more stories and report in person on less, so we have to do phone work and pick up stories that not long ago we would have staffed.
I'm glad the examiners have noticed this, but I'm confused about how we're meant to get the skills we need to pass – and whether it's worth it.
If the newsroom priorities have changed, what's required of us has changed, the skills we need and the training goals and methods have changed, why aren't the exams changing to reflect this?