The Trial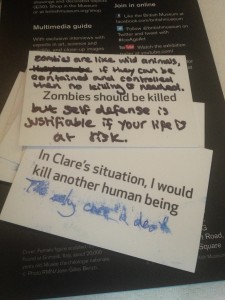 I am wearing a blue polo-neck shirt and a charity shop brown cord skirt and I am Fiona, a spotlight shining in my eyes, sitting on an uncomfortable chair in the Science Museum in London, being interrogated. Maybe three or four hundred people have interrogated me so far today, and I have answered the same series of adversarial questions with the same series of answers and the same series of hand gestures, pleading my innocence.
Then one woman with brown hair and a serious face sits down in front of me, her face level with mine or even a little below it, to ask her questions without interrogation. I can see her eyes. She is concerned and gentle. Around her, one by one, the other adults who have come to discover this world sit down too, like five-year-olds at the feet of a schoolteacher, and I lean down and tell them Fiona's story, but this time with relief.
The call
My dad has come to visit me. He is in London for a few hours for a meeting that has him dressed smartly, suit and tie, but he looks smaller than I remember him. He has cancer. That word circles in the air but we do not speak it. I show him the wall where the next day's newspaper is beginning to take shape, the room where we have morning conferences, the newsdesk. Someone asks if he is lost and I say no.
We are sitting in the cafeteria and talking about surgery and my phone vibrates on the table between us. I can read enough of the email to know that I need to open it. I open it and I am going to Australia. My dad looks at my face and asks me who died. I tell him I have been asked to go to Australia. It is the first time his smile reaches his eyes.
The partings
We take a break from the planning, the packing, the preparations. More people than I can count turn up to wish me happy birthday and to wish us both safe travels. Friends from five cities come. I cannot spend time with everyone I need to see. We empty out the 20-kilo bag of boiled sweets left over from last year's games onto the varnished table in the upstairs room at the pub at the end of our road. We talk endlessly. I know I am going to miss these people, the family I have chosen. I have no idea how much.
The landing
It is ten hours since our plane landed. It is thirty-five since it took off. It is fifty since I last slept. I am standing in an underground room with twenty other people who have had much more sleep than Grant and I. I am at a university with a cup of tea in my hand looking at a grid map of London made from rope and nametags on the floor, working out which bits need water before they burn. Later I will make a paper sculpture before a new friend drives us to a new home and we eat kebabs and fall asleep on the sofa.
Lorikeets
I am standing in Sydney botanic gardens in front of a tree full of rainbow birds that I never in my life thought I would see in the wild, and I am weeping.
Moving in
It is dark. The new ninth-floor flat has windows on two sides and outside the city is tall and filled with wonder. We turn off our lights and stand with music playing, his arms around me, looking at the bright windows in the tall buildings and the lights glittering on the far side of the harbour. I fall asleep still staring out of the window and dream I am on a ship.
Launch
On the way to work I listen to Run Boy Run. All day it rings in my ears.  We are in the morning papers roundup, despite not being a paper. Kath is on TV and I know before I see it because the graph spikes. People welcome us. By teatime I have more messages than I can respond to, than I can even read. The numbers tick up and up.
On the way home 15 hours later I listen to no music and hold a chocolate echidna in my hot hands. Grant meets me in the park and I give it to him to eat.
Saturday
One week after the election. Last week we went out in 30-degree heat to a local school, where instead of dusty booths and queues there was a fair and saxophonists and bouncy castles and four different options of sausages in buns. The campaign is over. I am taking a day off, or I would be, but we have a story. I sit in the corner of our too-springy sofa while Grant plays a console game and I push buttons and pull levers and post messages and watch as a 4,500-word essay published on a Saturday morning becomes our most read story thus far, and I am proud.
Freeplay
I am on a stage talking about Detritus and class and gender, and no one heckles me. All weekend no one tells me I should not be there. My games count as games. My journalist's background does not exclude me from any conversations, nor does my live game design work, nor do my many other backgrounds. I am a whole person who does and is many different things and none of those things must be excluded for me to participate, here. I eat sushi with people I only know from the internet and play games projected onto the floors and walls. It feels like coming home. And people play Detritus and tell me it moves them, and I am proud.
October
The work days begin to blur together, starting early and finishing late, too many exciting moments and too much to do, all of the time. It becomes routine. At times – between fires that blot out the sun and the screeching of the enormous bats – I almost forget we are on the other side of the world.
Then for a brief week the routine stops. Our closest friend visits, impossibly, and we take him to visit our Sydney: sunshine, the gardens, the beaches, the roof. We wake up each day with a new plan. Walking Darling Harbour, dumplings in Chinatown, kebabs in Manly, the ferry; a day doing nothing but sitting in, playing games, like old times when we used to live together. When he leaves I am broken, as though we have just left home a second time.
Cairns
There is rainforest. There is birdsong and the beach and my parents visit. My dad is walking well. We swim and eat and watch the great blue butterflies lazily flap along the gully. There are turtles.
Valkyries
Everyone in this smoky room is intensely serious. We are all holding cardboard swords and axes, held aloft, pointed at one another: a battlefield. As the music begins and the Valkyries ride – plastic helmets, blonde wigs, cardboard hobby horses – we battle heroically in slow motion. I dodge a blade, twirl low, bring my axe up to strike as my opponent leaps sideways out of the way. I am tapped on one shoulder, called to die, and I die in the most epic fashion I can muster at the hands of a giggling 12-year-old boy, gurgling on the smoke-covered floor in a small room in St Kilda.
Christmas
There is no turkey. It rains too much to go to the beach. We play Netrunner for hours, eat smoked salmon sandwiches, visit new friends, talk endlessly in the rain. Three days later, in short sleeves and flip flops, we walk from a friend's house to the bus stop. The pub opposite is festooned with ridiculous Christmas lights. One looks like a car on fire. It takes us five minutes to work out it is Santa, in traditional summer gear, handing out gifts from the back of a truck.