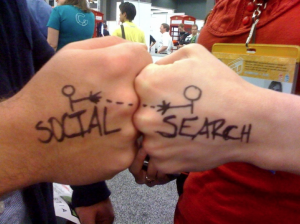 Search vs social discovery is a debate that's been going on since Twitter's ascendancy as a link discovery machine. TheMediaBriefing has an interesting piece that suggests hybrid discovery is the eventual goal – a blended approach that ignores neither option. It's a sensible conclusion, though I don't share the belief that search traffic is necessarily disloyal – or that social media traffic is necessarily loyal. Both are used too broadly by too many readers to be so easily characterised.
Search is private, while social is public (at least to some degree, depending on your privacy settings). People will search very honestly for what they want to see, and will express ignorance, voyeurism or an interest in the salacious in the secure knowledge – or at least the reasonable belief – that no one but Google will ever see that information about them. Google autocomplete suggestions are full of quiet questions asked by millions in private.
But through social media, people will share what they think makes them look more like the idealised version of themselves. We use social media to construct our identities for other people to consume, and in so doing we share what other people will think we look good for sharing. For the most part we'll ask stupid questions, or difficult ones, for the purposes of illuminating a facet of ourselves or to call for interaction with others – not necessarily to gain information. We'll share what outrages us in order to comment on it, but read what interests us without sharing if we can't fit it in to our constructed identity.
This is one reason why frictionless sharing is a problem: what we read and what we want to tell others we read are two vastly different things. It's also one reason why social and search end up positioned as adversaries, when in fact they are complementary allies. Search discovery for publishers is not serendipitous; it relies on information-seeking queries, on individuals being interested enough in something specific to type words into a page and select from what appears there. It isn't about teasing headlines or making someone wonder about what comes next; it's about being as relevant as possible right there and then. Often, that includes personalisation, or simply being a reader's preferred source for a story; loyal readers come through search as well.
Social discovery, by contrast, is about stumbling upon something potentially interesting because it's been passed on by friends or by individuals you trust. It's about not knowing you wanted to read something until it's in front of your face. And a successful social piece works because you enjoy reading it, and you want to pass it on, and so do dozens of others. But social discovery happens as an interruption to the flow of doing something else; you move seamlessly from browsing Twitter/Facebook/Reddit/wherever to a different site for a link, then hit the back button and return to your browsing. It's a diversion, not a journey in its own right.
Because of the commercial sensitivity around reach and discovery for publishers, an awful lot of inaccuracies get cheerfully spread online. For some time, there's been a popular conception that search and social are fundamentally at odds, when in fact they're often fundamentally intertwined. Plenty of news organisations reach the same people with both, at different times, with different articles. And plenty of pieces work perfectly for both, because they both illuminate a relevant issue for those directly interested, and make for interesting reading for those who didn't yet know they cared. As Jackson says, what matters most is making content people want to consume. Making sure they can find it is the second step.