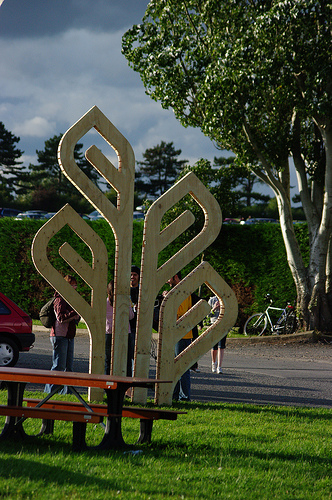 Last weekend I went to Greenbelt, Britain's least-known and friendliest festival, where I have had a wonderful time being very, very relaxed, and engaging with social media as a consumer.
Rather than blogging my personal festival highlights, let's talk about the innovations that allowed me to pick up on Monday a 16-page newspaper that went to press on Sunday night, two days after the festival opened, aimed at getting me to engage with Greenbelt's online content.
Sponsored by Hewlitt Packard, the paper itself is a lovely object. It's called "While We Were Here" and it's entirely composed of blog posts, images and links that already exist on the web. In theory, the 4,000 free copies are designed to direct traffic to the web, not the other way round.
I don't know if it's working universally. I do know that when I got home on Tuesday I logged on and looked at a fair few blogs – I visited many of the ones printed in the paper and bookmarked or followed the profiles and groups signposted from its pages.
And I can say it worked for me. I don't know if this business model is sustainable anywhere outside a four-day charity festival using volunteers willing to spend every waking hour (and several that should be sleeping ones) making it work. But I do believe it has legs and it could be immensely succesful to clone online content for web as a way of driving the link economy of an event.