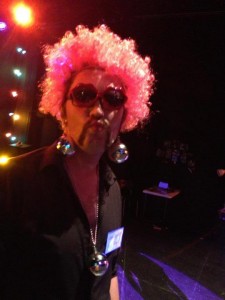 Ludonarrative Discodance is a pun that got really, really out of hand. It's also, somehow, a game we actually ran this weekend in Melbourne as part of the Playroom at This Is A Door. I'm eternally indebted to Pop Up Playground for the opportunity and the time and the wine involved in making that happen.
Grant's already posted an excellent write-up that you should read if you want to fully understand (a) what on earth we did at the weekend and (b) why on earth he now has that moustache. (As of current writing, he still has the moustache. He has shaved the rest of his face, but not that bit. It's possible he thinks I haven't noticed.)
LD was a bit of a shot in the dark, a silly idea that got out of control, but it worked. The core of the game is performing a silly dance and, across a crowded room, seeing the person who's performing your dance too – then running up to them, confirming it, and smiling broadly before running off to collect another card. It's clubbing rendered down into shorthand: a breaking-down of boundaries, feeling more comfortable with our own bodies and the bodies of other people, a game of connections and performance and acceptance. People told me it recreated the poor impulse control of being drunk, too, which I like.
Despite the daftness of it, it is a game which lets you say – "Do you want to dance with me?" and for the answer to be yes more often than no. Which is pretty neat for a lot of people, including me, who are used to the opposite. And for it to be a safe question to ask, too.
The gist of the game is paired charades with dancing. Disco music plays and you dance, while also trying to find the other person doing the same dance as you. Round one is nice and easy: you have to act out disco moves – the hip thrust, the hand jive, the Uma-Thurman-in-pulp-fiction. Round two is harder – the lost keys, the high-noon shootout – while round three has you act out films like the Lion King while trying to find someone else crawling around, roaring, holding small lions up to the sunlight etc.
We didn't get chance to do a full playtest before we ran in Melbourne, which meant the first few plays needed some tweaking. More disco admin staff, different balances of cards – having both Dungeons and Dragons and Lord of the Rings didn't really work, for instance, but Star Wars and Pirates of the Caribbean worked perfectly as foils for each other to make the game a little harder. (Both involve a lot of waving swords around, which can also be mistaken for Harry Potter.) I'd like to run other versions, other editions, perhaps tailored to different crowds or different themes. But there's something about disco that really, really works.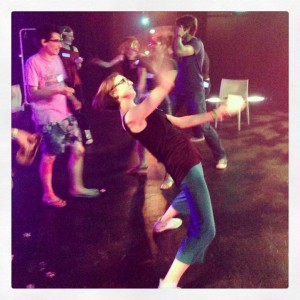 Fundamentally, the game's about being silly in public, and being rewarded for it. The more exaggerated and daft you are, the better you'll be at the game – if you hold back, you won't score so many points. So it's in your best interests to throw yourself into things and shed a few inhibitions in the process. Something about disco music just works for that, somehow; lots of us have mental images of Saturday Night Fever (though not the rape and drowning bit, obviously) and memories of school discos to use as touchstones for that kind of dancing. If you don't, well, there are instructions on the cards.
It's equal opportunity silliness: everyone looks as daft as you, so you might as well have fun with it. And it's a good way to get people mixing and mingling, talking and laughing – you present your silliest, most overblown, daftest self and then someone else dances up to you and there's a moment of recognition where you both grin.Often people would add little flourishes, dancing together for a moment before coming to hand in the cards – synchronised disco pointing, putting on Cinderella's shoe, twirling towards the disco admin team in time to classical music no one else could hear.
My personal favourite card from this play was the dad-at-a-wedding. Everyone interpreted it differently, but it was surprising how recognisable it was. I got to see people's joy as they worked out what was going on and got into the groove; actively encouraging people to dance badly is, it turns out, a great way to get them moving and laughing.
We played perhaps a dozen other games – eight shows in three days, two hours each, with Ludonarrative Discodance just a small part of the proceedings. Rainbow Running has a similar physicality, but it's competitive in a broad way rather than collaborative, and it's definitely not silly. Impossible Book Club is all about discussing a book that doesn't exist, so it's performative and intellectual and silly in a slightly different way. But my personal favourite from the weekend was The Ride, a game about slow-motion fighting and Valkyries.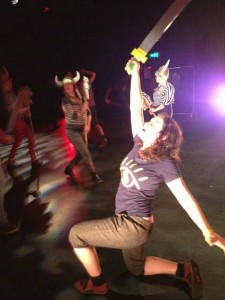 You start with a cardboard axe or sword. You challenge an opponent from the other army. Then you battle in slow motion, not landing a blow until the Valkyries decide who should die. There's smoke and dramatic music and shouting, and dramatic deaths on the floor. Then you do it again, but this time the dead fighters are spirits who can help out their living comrades, by helping them throw weapons or carrying them across the battlefield or repelling enemy attacks. Even if you lose, you get to lose in the most epic and glorious way possible, and then you get to help your fellow players to achieve even greater heights of epicness and glory.
It is a gorgeous game, absorbing, entertaining and delightful. It is beautifully, wonderfully silly, in a way everyone can get behind, because once again everyone is being silly, playful and physical, in public together at the same time. That's something we don't get to do as adults nearly often enough.