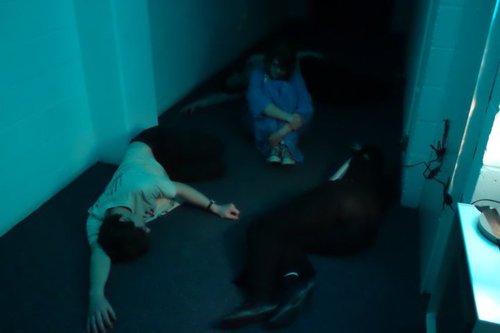 For those who don't know, on Saturday I and a team of others ran the seventh Zombie LARP game. We're hoping the next major event will be a big leap up in size, in ambition and in attendance. But before that happens I want to note down a few of our important principles – and important problems we need to solve.
What on earth is Zombie?
First, though, an explanation. Zombie is a live-action simulation game where people take it in turns to try to survive in an industrial complex overrun by the living dead. We run several scenarios over the course of the game, with a different group of people "surviving" in each one. When players aren't trying to get out alive, they're pretending to be zombies so that someone else can have a turn.
The game is a sort-of bastard child of traditional live-action roleplay (LARP) systems, fast-paced video games like Left for Dead, and the kinds of cowboys and Indians/summer water pistol games you played when you were a kid. The combat resolution system is based on Nerf guns (players shoot zombies) and a low-contact mechanic (zombies touch players on upper arms to represent biting, mauling etc.)
If you've read this and you still have no idea what we do, please leave a comment to tell me. I'm trying to improve my ability to explain the game to people who have never played a LARP or a video game before, so the experience would be useful.
How are we telling stories in Zombie?
Video games almost always have plot. Sometimes that plot is stretched over 50 or more insanely complex hours; sometimes it's over in minutes so you can get on with killing things. Sometimes the storytelling is so deeply entrenched in the game that it's inseperable from it; sometimes it's abstracted from it so that the gameplay and the overarcing story are essentially separate entities. And sometimes the plot is about football.
Almost all LARPs are plot oriented. Some big games have top-down storytelling systems where world-changing events are affected by the big players in the game, while others have grass-roots player-oriented plot systems that allow even the most minor player characters to affect the universe.
In Zombie, plot takes a back seat to gameplay. Players might have twenty minutes at most to survive, and most of them won't. That time seems a lot longer than it really is thanks to the game pacing and the adrenalin (much like the experience of riding a rollercoaster) but long-term character development is not an option, and neither is sticking around to watch the game world evolve. Zombie does have a wider plot system and the players can and do affect what happens, but when you're running screaming down a corridor pursued by the undead trying to eat you, it's impossible to take that in.
As refs and storytellers, we do several things to try and work with the game elements to make the game story rewarding. Most of these were worked out through trial and error and getting it badly wrong before we worked out how to get it right.
Broad brushstrokes.We talk in bold black-and-white hyperbole. Every run is all-or-nothing, do-or-die. Players are given missions that affect the fate of the wider game world, so their actions carry weight and the game retains a sense of urgency.
Metaplot and wider world. Zombie has an overarching plot framework that makes it possible to slot game events into place. There are several organisations in the game's world – a shady scientific corporation, an armed resistance unit – and the real-time games take place within a framework created by the actions of those organisations.
Sandboxing. Runs in Zombie are set up to be sandboxes where the players can take many different routes to the goal. We have set pieces for players to encounter – a room full of injured survivors, or a super-powerful zombie intent on taking them down – but those are never static events that play out in a pre-defined way. They are elements of the game world that add authenticity to the run without scripting players' actions or requiring them to act in accordance with anything.
Emergent stories.This is a common concept in video game design but in my experience is used much less outside specialist gaming environments. It refers to narratives that are uncovered or revealed during gameplay, and which require input from players to understand and piece together. For Zombie, I commonly use the term to describe stories about moments in the game that are unpredictable and unpredicted, that form unique and structured narratives, and that are the result of player interaction with their environment.

And this is the important one. We try and make sure that after the chaos of the run, players have their own, personal stories to tell. We give them space beforehand to construct back story for themselves – encouraging team action – and we give them briefing time and attention afterwards to help them construct individual and group narratives about what happened. We try to give them tools and communities in which to tell those stories, we respond to them and retell them and incorporate them into the structure of the game.
Some stories filter out and fall. Others become local legends – the tale of the player who leapt six feet over a group of zombies only to later be mauled to death in a dead end, or the player who hid from the zombies successfully for twenty minutes before his mobile phone went off, alerting them to his presence (he died shouting "Now is not a good time!"). Last night one player managed to obliterate about 40 zombies with a heroic show of power – that story too will be permanently recorded in the mythology and mythos of the game. We give people awards for creating brilliant stories – often those awards are nothing but a shout out, a retelling of their story and a biscuit or a sticker, but they carry value and people strive to obtain them.
What's so good about emergent stories?
Zombie is an activity that, at heart, is very difficult to share. It's designed and conceived as a completely immersive experience while you're playing, making it very hard to film video or take pictures. Backchannel chat, feedback and social sharing in real time are impossible. Very few images or films survive from our early events (though a couple of Youtube videos do get a steady stream of views and bring in occasional new interest three years later).
But even in the first game, our players found a way to share their experiences. They told stories to each other and to their friends, passing on their favourite experiences orally. Almost everything we've done with our storytelling framework since then has focussed on creating the brilliant moments that make those stories, and encouraging people to tell them.
In planning meetings we make lists of "moments of awesome" that will be memorable if they work right, things that will stick in the mind. We put single zombies in weird situations just in case a player stumbles across them. We make tableaux, design interesting characters for players to meet and memorable situations for them to meander into.
We try not to dictate the stories. More often than not they happen organically. We can't make the player team split up and get lost; we can't force someone to go to incredible lengths to avoid in-character death; we can't ever guarantee that what we do will be the focus of player attention. More often than not our efforts simply go to create a better atmosphere for these experiences to occur. We make it easier, but it's the players who make it work.
And we can't dictate how the players ought to tell stories. We try to give them as many routes as possible online, both by creating our own community area and by using Facebook (and Twitter to a lesser extent) to curate and collect and encourage. Stories like this are ephemeral, and while we want people to tell them and we want a long-lasting record, we know we can't rely on ever having one.
Many non-gaming events rely on video and images for a record. Increasingly, conventions and similar (relatively passive) events are relying on backchannel chat and the wider analysis of that conversation to provide useful data and a lasting record of what occurred. For us, the record lies in memory and in oral channels that are hard to replicate online – because of the immersive nature of the experience along with various technical issues, it's impossible to get an idea of "what it's like to be at Zombie" from any one medium. But when our players tell their emergent stories, that has immense value for us. It's the best marketing possible because it comes with a direct endorsement and genuine enthusiasm. It's an elusive currency but it's vital to our survival and it's been integral to our growth.
There are four main areas of uncertainty for me that arise from our approach, with questions that I don't yet know how to answer. They are:
How do we continue to foster personal, individual experiences and therefore stories while scaling our game upwards? If there are 180 players instead of 60, how does that affect our model?
How can we encourage people to create and share content online that resonates with their emergent stories without sacrificing our immersive in-game experience? We already have teams going in with cameramen to film them, but the footage is necessarily low-quality and shaky and never reflects the full experience. How can we depict the game in ways that encourage emotional response and act as anchors for emergent stories in the same way that text can?
How can this model apply to other events? How does it fit with (un)conferences and industry events? Networking events? Rallies? Fetes and carnivals? Riots and demonstrations? Is this another way of looking at and describing oral history? Or does this work to foster, encourage, document and curate emergent stories have journalistic potential?
If you have any suggestions for answers, or any more questions, please share them in the comments.